When we read a book, we can briefly take on another's identity in our imaginations and live another character's life and experiences - yet still we're restricted by the author's intentions. But there is a place where you can be anyone. You can be as beautiful as you want, be either male or female, strike up relationships, fall in love, be a slave, screw around - and the plot is up to you.

That place is the virtual world. Today's guest is Eloise Pasteur, longtime resident of Second Life and one of those mysterious people who actually make their living in the virtual realm, who has agreed to tell us a bit about how sex, love and relationships work in this brave new world.

Janine Ashbless

I was asked if I'd write a bit about love, romance, sex and relationships in Second Life. Happy to oblige. This might be payback for winning two prizes in two weeks!

Before I dive in to the nitty gritty, let's talk a bit about what Second Life (SL hereafter) is, for those of you that don't know. Because I will inevitably talk about them this way, RL is real life, the space where the flesh and blood avatars live, and IRL is "in real life."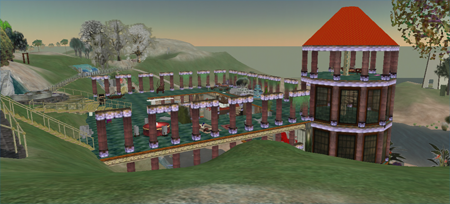 Second Life is often described as an online game, which is wrong - it contains none of the features you'd expect in a game like World of Warcraft etc. It is also compared to IRC with 3D chat rooms. That is sort of true, certainly truer, but it still falls short. There is something about seeing "people" and "places" (this is my house), that takes it, for everyone, beyond that. If you add in shopping, having a house but no housework, and if you're of that sort of a frame of mind, building, making clothes (so other people buy from you!), and so forth, then you're getting closer to what SL is.

If you have played an online game before, one other thing that might confuse you - essentially there are no such things as "monsters" or "non-player characters" or "machine operated players" - behind everyone you meet there's a person sat at a computer (or just nipped away to make tea, have a cigarette, go to the toilet, check their RSS feeds, whatever).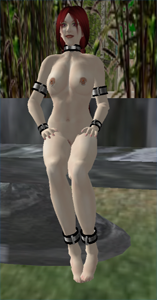 Oh, you can also write in SL as well. There isn't spellchecking, formatting, etc. but there is a text editor, and this is the view I'm getting as I wwrite - this is my house, and of me sat on the bench, writing away. I'm not always naked by the way... in SL I let my submissive tendencies out, in an uninhibited way, and Mistress said no clothes for the day.

Having started here, with the BDSM end of the world, let me say that not everyone in SL is sexually active in SL - they are all (notionally) over 18 though. There is a separate grid for teens, and nothing for the under-13s at the moment. Of the adults that are sexually active in SL, there's quite a bit heterosexual, vanilla sex proportion. There are even people who choose to have babies in SL. There are, however, a lot of more fringe (well IRL) communities including:
Lesbian/gay sex,
BDSM private relationships and thriving communities,
Gorean roleplay communities,
Furry communities (includes dragons and birds btw, who aren't really furry),
Vampire communities,
Ageplay groups
I should also point out there are a range of other communities - educators, businesses, etc. that are not specifically (sometimes at all) linked to sexual behaviour and romance, although of course they're still in some ways about human interactions.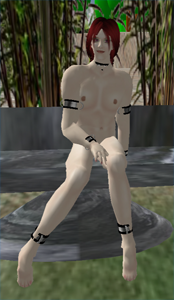 In SL your appearance is completely a matter of taste. With four clicks of the mouse I can change into a this. I look odd as a man, because I'm far from optimised for male appearance (and men are Ken and Barbie smooth between the legs unless they buy a penis attachment.)


Changing height, breast size, shoulder size, weight, and everything else is just as easy. Changing hair styles and colours is about as easy. Acquiring nipple and clit rings is a lot less painful than real life, but takes a bit more effort than changing hair or gender!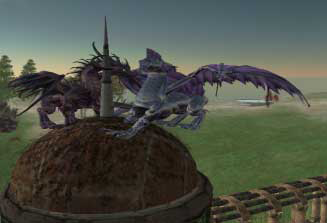 Becoming a furry, or a dragon, takes a bit more effort still, or some shopping, but it's a matter of moments to change to and fro once you've got the right bits. Whether or not you're sexually active there's also lots and lots of shopping to be done! This is a tiny part of the thousands of outfits in my "wardrobe."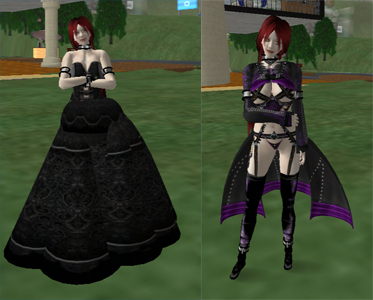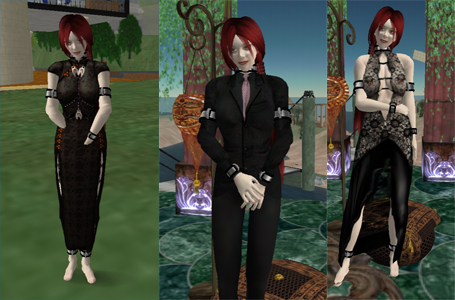 This ability to change gender probably results in at least some of the preponderance of the same-sex relationships. There's an on-going joke that in any lesbian threesome, two of the women are men, and when one leaves, it's the two men that are left. This can be true, although there are a fair number of RL lesbians, and lesbian-curious women, often married IRL, out there too. I'm not as au fait with the gay community, although I do know there is one. I assume it follows a similar pattern - RL gay men, women who want to know what being a man is like but still fancy male bodies, gay-curious men, all in a melting pot. Furries, many of whom have hermaphroditic avatars, and claims of "I'm the only straight furry in SL" can be quite common - very much shades of "I'm the only gay in the village." There are also a not too surprisingly high number of transsexuals, pre-op and post-op in SL. For what it's worth, I'm not really into casual sex, RL or SL, but I've had sex, in SL, with a man in a man's body, a lesbian woman, a male-to-female pre-op transsexual, a lesbian-curious woman and a man in a woman's body. The only combinations I've missed are hermaphodites and women in men's bodies - although I do know of several of each.

My current relationship is 6 months old next week (as I write, about 6.5 months by the time of posting). This is quite long by SL standards, although not uniquely so. There are relationships I know of in their fourth year and still going strong - but relationships reaching their first anniversary are unusual. I can't, entirely, explain this, but I can hazard a guess. I think relationships in SL burn hard and fast for a mix of reasons.

Firstly, SL starts, for many, as a dating game, and a game in which they learn the rules anew. Think back to your first relationships. Most of us run through a number of relationships fairly quickly as we learn what we like, don't like, how to relate to someone potentially and actually in a sexual nature. Then, as we grow more experienced, we learn both how to more successfully chose someone we'll like and do well with longer term, and we learn how to cope with imperfections better as well. SL is still, for many users, in the early days of the dating phase. If you add to that kissing being relative boring in SL (no actual press of bodies, lips etc.) and the relative anonymity and lack of risks of sexual activity, we tend to dive into sexual relationships very, very quickly. This ties to commitment/marriage emotionally in our minds, so we quickly establish all those routines whereas, IRL, we'd probably still be wondering about jumping into bed with the person, enjoying that anticipation of touches, contact, seeing them naked for the first time, being undressed by them and so on.

And with that as a lead in, time to talk about the mechanics of getting hot and sweaty in SL I think!

There are various sex toys in SL that more or less say what's happening and take control. Speaking personally, I'm not a fan of these. There are people who use the poses and animations, alone, watch their avatars humping away and apparently seem to be satisfied by this. Again, not for me. Speaking personally, sex in SL is a combination process. The poses, avatars and toys have their place - Mistress enjoys tugging my nipple rings and clit ring, and I'm moderately often out in public chained to her by clit, nipples and collar, and I love it. We've got a bed (well several actually), but I have strong memories of being chained to the bed and Mistress turning around and playing with me when she felt like it, but leaning on me as she was writing reports for RL work - rather like John Malkovitch and Uma Thurman in "Dangerous Liaisons" but with added bondage fun. They're the quiet times if you like.

When we're being more active, the poses and the toys still play a part, but the sex becomes co-operative storytelling.

This is an extract of the sort of mix I mean - stuff in blue is generated by a toy, stuff in black is written (but has been proofread) by a person: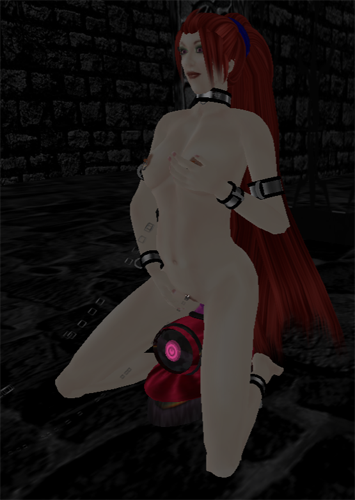 A large dildo appears at the top of the machine, sliding into Eloise.




The large dildo begins to pulse and vibrate inside of Eloise.




A thin dildo appears at the back of the machine, penetrating Eloise.




Mistress Lilly presses a control. The thin dildo begins to pulse and vibrate inside of Eloise's rear.




Mistress Lilly spanked Eloise's ass


Eloise: Eight thank you Mistress


Mistress Lilly nibbles Eloise's right nipple set in its ring. Eloise closes her eyes and draw in a sharp breath.




Mistress Lilly presses a control. The large dildo stops vibrating.




The large dildo begins to pulse and vibrate inside of Eloise.




Mistress Lilly presses a control. The thin dildo stops pulsing.




The thin dildo begins to pulse and vibrate inside of Eloise's rear.


Eloise writhes in pleasure as the vibration start to stir her core, lust and desire building inside her
Mistress Lilly smiles and watches her sweet eloise grab at her nipples, her core and ass filled, neck chained...
Mistress Lilly kneels and places her silky tongue on eloise's clit
Mistress Lilly feels the bouncing


Mistress Lilly spanked Eloise's ass




Mistress Lilly presses a control. The thin dildo slips back into the machine.


Eloise shrieks in delight as your tongue adds to the sensations from her pussy
Eloise: Nine thank you Mistress


Mistress Lilly spanked Eloise's ass




Mistress Lilly spanked Eloise's ass


Eloise presses down against your tongue, writhing happily with each smack


Eloise's clit is being touched by Mistress Lilly.


Eloise: Ten thank you Mistress


Mistress Lilly extends their tongue and drags it across Eloise's folds to the clit.


Eloise: Eleven thank you Mistress


Mistress Lilly extends their tongue and drags it across Eloise's folds to the clit.


Eloise tips her head back and screams in bliss
Eloise's clit is nibbled between Mistress Lilly's teeth tenderly.


Mistress Lilly points their tongue and jabs it deeply into Eloise.


Mistress Lilly leashes your clit and pull on it as she nipples on your clit
Eloise arches her back, opening herself further to you "AAAhhh, Please Mistress?"
Mistress Lilly: please what, eloise?


Mistress Lilly twists Eloise's right nipple ring. Eloise closes her eyes and draw in a sharp breath.


Eloise: Please can I cum Mistress?


Mistress Lilly flicks Eloise's right nipple ring. Eloise closes her eyes and squirms deliciously.




Mistress Lilly slides their fingers along Eloise's labia and spreads them open.


Mistress Lilly shakes her head "No...I am busy drinking your pussy eloise"
Eloise groans and grinds down on your fingers and tongue
Eloise: Yes Mistress
Mistress Lilly pours a glass of champagne and pours it on your pussy, licking up the juices mixed with the sweet champagne
Mistress Lilly offer the glass to you for a sip...and then pours more on your nipples and licks them clean....

This was my third rezday (SL birthday) present, or part of it. Excuse, it's bringing back happy memories, I'll be back later!
Phew, back. Fingers clean. Where was I? Oh, yes: It might not match up to the polished, professional writing you're used to reading here, but this is conducted, back and forth, in real time. Often one-handed at both ends, and with increasingly bad grammar and spelling as we get more and more excited. In that sense, and in a way that book never manages to my mind, it's interactive, just like real sex. Even if you're tied to the bed so hard you can't move and it's all being done to you, your body responds, your mind responds IRL, and in SL too.
Just like IRL, our relationship (I'd venture to say all the lasting ones), aren't based solely on sex, although it's certainly a part of it. We work together, we play together, we chat together. We share the frustrations and triumphs of RL and SL. We've never met, although we are talking about it, but we share our time, our lives (first and second), we have a relationship however you want to measure it - but of course, what would you expect when it's people's hearts and minds that engage with each other?
To try and keep this down to the size limits, I had to edit out my answers to a lot of very reasonable questions the Lust Biters asked. I'm happy to try and pick up answers to questions in the comments - I don't live on the refresh button, but I will check back several times over the next few hours and days so should get to all your questions. If you come into Second Life, look me up!