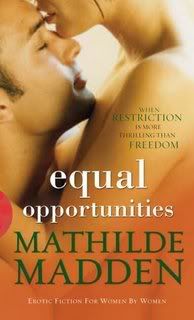 Okay, so, here's the thing. Each month on the last Friday, one of us will post up a hot excerpt from one of our novels or short stories.
All you have to do is enjoy it.
*

EQUAL OPPORTUNITIES by Mathilde Madden


Background

David is in a wheelchair following a spinal injury. Mary spots him in the library and finally decides to fulfil one of her darkest and most hidden kinks. Mary is a devo. She is turned on by disability. David knows this, and he really doesn't care. He's a good looking guy and before his accident he had his pick of the women. But since he's been in a wheelchair his confidence has taken a knocking and his studly prowess has vanished. Mary is just this kinky girl, you know? And he's just happy to be getting some.
Until now.
*

David
Another night, a night of coffees and insomnia and wrongness, she keeps me up into the darkest, tiniest hours of the morning, asking me questions. She asks me about what happened to me, about the accident, about how it felt then, how it feels now. She touches my body and asks where I have sensation and where I don't and where it varies. She makes me describe Being-David-Malkovich over and over until I run out of adjectives, out of words, out of thoughts. I keep going until I feel like she could step inside my body, and feel every feeling I do, and nothing would be a surprise. She shows me that my body – my changed, spoiled, abnormal body – is her own personal Song of Solomon. It's a very weird feeling, and one I'm not sure I'm used to yet.
As the night gets darker so do her questions. She says, 'If you weren't in your chair, how would you move?'
'What do you mean?' I roll over in the bed so I can rub against her, pressing close.
'I mean, well, would you crawl around? What could you do?'
'I couldn't really crawl, like, up on my knees. I could pull myself along though. My arms are pretty strong.' I feel her shiver against me.
She swallows slowly, and then says, 'So, sort of on your belly?'
'Yes, just like that.'
'I'd like to see you doing that.'
'Why?' I say with a teasing smile. Because, of course, I know why.
'I just would. Show me.'
So I do. Suddenly the lights are on and I'm in my chair, heading into the living room where there is most floor space. I let her gently help me on to the carpet and watch me drag myself across the floor on my stomach, the best I can. I'm still naked and I feel utterly vulnerable. My whole world contracts. I suddenly feel this strange wave of sensation. I am utterly dependant on Mary right now. And I like it. It's everything I shouldn't like, but I do. I feel like I need this. Like I'm addicted to her. And her bizarre way of thinking.
I'm crawling for her. A weird little fucked up creature dragging itself across the carpet. And, god, I really shouldn't like this so much. It's every kind of objectification. But sparks of arousal are flying all over my body. I can scarcely tell which parts of me are which. I want to scream at her for her to take me. Use me. Make me into a mere thing. I want her to stride across the floor to me and fuck me. Force herself inside me. Own me.
But I don't. I don't because even in my own zoned out state I can tell she's lost in her own rapture. She wouldn't even hear me. 'Tell me why you're doing that,' she says, as she stares at me crawling, squirming on the floor, her voice so ragged it's barely recognisable.
'For you.'
'No, no, tell me why you have to move like that.'
I change my path and start to drag myself towards her, meeting her eyes from way down on the floor. 'Because I can't get up.'
I can tell how much this is turning her on and it arouses me to see her almost frozen to the spot with desire. My cock is so painfully hard now – burning against the carpet as I continue towards her.
She stares at me in silence after that, until I reach her and run a desperate, wanting hand up her bare leg; trying desperately to reach her cunt. As my hand grazes her upper thigh, she takes half a step backwards, pulling deliciously just my out of reach. And I whimper. Begging. Helpless. Everything she loves.
Then, suddenly, she growls like an animal and flips me over with a kind of preternatural strength, and we fuck until I feel sure she's worn away the carpet beneath me.
And after that, while we are still lying there, a sweating mass of heaving chests and smarting carpet burns, that's when I say it. I don't know why.
I say, 'I love you.'
*

Want more? There's another excerpt on my blog. Here.
Also, here is an interview with me talking to the glorious founder of Lust Bites Nikki Magennis about the book and other smutty topics.
Or you could always buy the actual book
Amazon UK
Amazon US