by Olivia Knight

We've all been there: garden party, drink in hand, exchanging witty repartee with some magnificent specimen whose eyes smoulder with wry debonair amusement, and you think – What, on earth, could possibly make you hotter? – and with a discreet nudge of the elbow, knock him into the pool.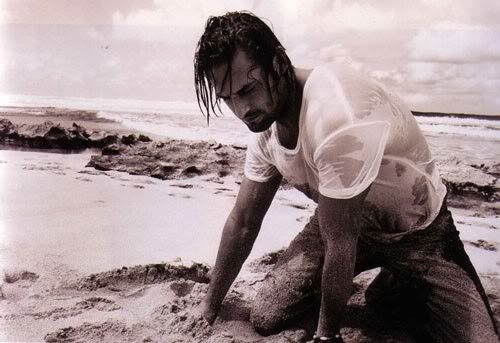 Ahh. Wet men. (Someone else will deal with Angry men in a separate post, as I don't do anger and am basically a non-confrontational dialogueic kind of person, as I've often explained very fast to men as they clamber dripping wet out of pools.)
A year ago, almost to the date,
Kristina Lloyd
did her lust-addled best to
explain the appeal of wet men
- she couldn't. (But she did supply some excellent pictures.) Nor can I. (But ditto.) It's like explaining the appeal of breasts to... who
doesn't
get breasts? To
whom
do I need to explain wet men? Just think about it:
If you can explain what's so damn hot about wet men, we'll give you stuff.
A year on, we've had plenty more wet men and to celebrate their perennial appeal, we're herding them together for you.
All men are hotter wet. We don't know why, we're hoping you'll tell us, but c'mon. Think of the two hottest men in existence. Brad Pitt; John Barrowman. Could they possibly get hotter?
Try it as an experiment - wander the streets, find a desperately clit-twistingly exquisite man, and pour a bucket of water over him. Ta-da! (I myself carry a bottle of water everywhere I go for this very purpose.) Want to make your hero hotter? Wet him.
'Adrian, you're soaked!' she exclaimed as she opened the door. Water ran in rivulets over his face and down the open neck of his t-shirt. His thick black hair was plastered on his cheeks as if it had been painted on. His jaw was covered in light stubble. He laughed, and she felt her eyes flare in admiration. She shouldn't be alone in the same house as this man.
—
The Ten Visions
It could be
that wet men tend to be naked or to strip their clothes off shortly after.
It could be
the artistic play of light as water slides and gleams across goose-pimpled skin. It could be the intensely private moment of getting wet and naked, those soulful thoughtful moments in the shower combined with the promise of bareness: intimacy of body and mind.
Let's consider that while we look at these, so that we're being philisophical and artistic instead of downright lewd.
It could be
a harkening back to primeval memories of when we all trawled the oceans, flapping our gills in glee.
It could be
a hankering after mermen.
It could be
a half-baked excuse for more wet men.
Scroll up and down, drool, dribble, whimper gently, and once more,
if you can explain what's so hot about wetness, we'll give you stuff
- your choice of
Enchanted
by
Janine Ashbless
,
Olivia Knight
and Leonie Martell,
Southern Spirits
by
Edie Bingham
, or
Phantasmagoria
by
Madelynne Ellis
, all variously featuring Men's Wetness. And if you need more inspiration, revisit
Kristina's wet men
.