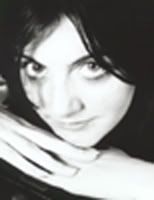 Special Guest Blogger: Emily Dubberley

As a full time sex writer, I divide my time between writing erotica (for my fantasy site http://www.cliterati.co.uk/, Scarlet magazine – http://www.scarletmagazine.co.uk/ - and Penthouse, among others) and writing 'real' sex advice (for everyone from Forum to Look). I also undertake a monthly feature for Scarlet called Emily at Large, in which I go off and try something sexually adventurous each month, from attending a naked disco to sploshing to having my vagina cast in plaster of Paris.
There's an intriguing blend of fantasy and reality in sex writing. People assume, when reading my Emily at Large adventures that I'm some larger than life sexual adventurer, when in reality, nothing suits me more than a massage, some kissing and good old-fashioned missionary. If I write an article about group sex, there's an expectation that I must get it on in orgiastic style every other weekend. And just by merit of being labeled a 'sexpert' numerous men are terrified of the idea of introducing me to their parents (for every cloud…).
People assume that magazine reality and reality are the same thing. In fact, ask most sexperts and they'll admit to having a certain 'persona' for their media work – we cry, have crappy relationships and have occasional lousy sex just like anyone else. But in magazine reality, we'll smile sweetly, give objective advice and pretend that nothing ever shakes us. It's a necessary evil – if you have to keep a straight face when someone tells you they let their dog lick them out, or when someone's buttocks are bouncing inches from your face at a sex party, you soon learn to apply the 'mask'.
And then comes erotic fiction. Although the stories I write tend to be fantasies, I'd be lying if I said reality had no bearing on it. My characters have a tendency to share certain physical attributes with me. They like to be fucked the way that I like to be fucked – except in the case of extreme fetish, in which case I'll generally chat to someone who is into that scene to get their bearing on what's hot. And yes, there have been times when I've regretted not having a notepad next to the bed when a partner tries something new and arousing.
In certain cases, I've felt obliged to email a 'muse' a story I've written to check they're OK with it appearing, as I'm sharing a personal part of their life as well as mine. Even though I always change identifiable details – name, hair colour and, on occasion, gender – I still think it's only polite to check that the person who inspired the story is happy with their write up.
And then there are the times when fantasy is used to feed into reality. I will freely (OK, slightly guiltily) confess that there have been occasions when I've written an erotic story with the express intention of seducing someone. I'll email a prospective conquest an erotic story I've written (albeit someone who I've already established has a certain amount of interest in me). I've never been so crass as to put them in the starring role (that comes once I know them a lot better) but I will send them something I think will turn them on. It's a surprisingly effective technique (if not exactly the definition of 'playing hard to get'). And on occasion, they've gone on to inspire future erotic stories courtesy of real life entertainment...
If I look back over the erotica I've written over the last six years, I can track every relationship or even crush that I've had and gauge a fair amount about my state of mind at the time. As such, even the stories that are the most fantastical have a degree of reality about them. They reflect the person I was when I wrote them.
When I review other people's erotic books, I'm often curious about the relationship between their words and their personalities. I've met a hard-core femme domme writer who's a softly spoken mum; a woman who writes almost exclusively from the perspective of a gay man; a softly spoken shy French girl whose words portray extreme submission. I wonder whether their erotica reflects their true sexual personalities or whether it's pure imagination. And yet I'm guilty of the same thing I hate in other people – judging authors from their writing. You wouldn't expect a crime-writer to be a murderer, so why expect an erotica writer to be obviously sexually voracious?
Sex is a real thing, with everyone having their own perspective. As such, writing about it will always bring the question 'how much of this is true'? But really, does it matter? If you're reading a sex column and you think 'that sex tip wouldn't work for me', don't follow it. If you're reading an erotic story and getting off on it, who cares who wrote it? When it comes down to it, only you can create your own sexual reality. Anyone who believes anything else is clearly a fantasist.
Emily Dubberley
http://dubberley.com
http://www.cliterati.co.uk