by Mathilde Madden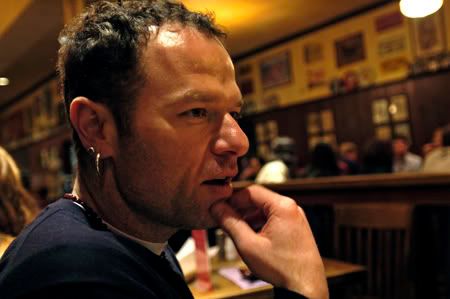 "I take responsibilities for these stories, for every sexual act depicted, many of which occurred when I was younger, before I made the effort to acquire the information I needed. I acquired scars instead. This is not a memoir, but it's damn close. And I'm okay with that. And I'm okay with you knowing that."

*

Stephen Elliott
is an ex-stripper, a political activist and the author of six books, including
Happy Baby
and the almost-all-true sexual memoir
My Girlfriend Comes To The City And Beats Me Up
. He is the founder of Progressive Reading Series which helps authors raise money and participate on behalf of progressive candidates across the United States and has written a book about the Democratic Presidential nominations. He has also edited a forthcoming collection of political erotic stories
Sex for America
– featuring Lust Bites' Alison 'Randy Little Bitch' Tyler among others.
It's 9am in Los Angeles and Stephen Elliott hasn't had any coffee. He says this means nothing he says can be relied upon, 'like sleep talking.' Meanwhile it's 5pm in Brighton and I have spent all day proof reading werewolf erotica by reading it backwards. I need a distraction, frankly, and what could be more distracting than a funny, kinky, political, extraordinarily talented writer. He's single, by the way, he told me to say that.
*


Your writing is very truthful about being a submissive man. Do you feel exposed by what you write?
It is truthful. It started with Happy Baby. When I was writing that I was still very much in the closet [about being submissive]. And then my friends read it and started to put things together. I didn't have to come out, people just knew. And I felt more free. I felt better with people knowing. Of course, there were a lot of dumb comments and questions and I got tired of explaining things to vanilla people. Especially if I didn't really think they would understand.
I was playing cards with some friends and we're arguing about something and one of my guy friends says, 'You don't seem very submissive.' And I was like, 'Fuck you.' This is a nice guy. A liberal. But they don't think anything of making fun of my sexuality.
Also, another thing about being open. I do a lot of political writing and organizing and I've been attacked because of my open sexuality. So it's had negative ramifications on my career.
But I think it's best just to be who you are. To be as open as you can be. My only limit to my openness are limits placed by my own lack of self-knowledge. And I'm working on that.
Some people find 'coming out' makes them feel stronger and more secure. You lose the fear of exposure
Right. Nobody can expose you once you're already out.
But it's hard to think of many submissive men who have outed themselves rather than been 'Exposed'
I don't know. I can't think of any.
God. Are they're really not any?
Open, submissive men. Must be some. I'm trying to think of public people, writers, artists, politicians, actors.
I just thought, oh yeah, there's that guy who wrote that book... and I was thinking of you!
Ha. I've cornered the market. That's why I'm rich.
Do you think writing about sex and being open about your sexuality is a political act?
Definitely. That was one of the reasons I published my last book. Which is very graphic, and very open. We have the Bush administration which is really waging a war against people that practice consensual S&M.
We have to be open about who we are and what we do. We have to force people to accept us. Otherwise we're going to be persecuted.
Would you describe yourself as an erotica author? A sex writer?
I would describe My Girlfriend Comes To The City And Beats Me Up as erotica. But I wouldn't describe myself as an erotica author at all. Or a sex writer. I've written six books and only one of them is erotica.
Happy Baby is a novel that deals with BDSM themes, but it's not erotica.
An erotica story is a literary story (which is to say character driven) where the primary activity driving change is the sexual act. That describes some of my stories, and all of the stories in my last collection, but not the bulk of my work.
I'm a literary writer who is open about his preoccupation with the BDSM lifestyle.

Eden attaches a clip to my nipple. 'Do you want another one?' she asks.

'Yes, please,' I say. And that's how it goes, as my voice gets weaker and she lines my body with her clips, finally running a string of them down my penis. Every movement increases the pain.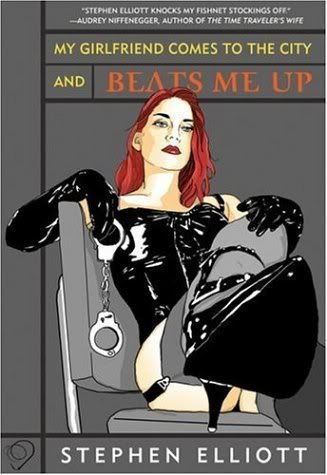 'You're being so good,' she says.

'I love you so much,' I whisper back.


She strokes my face. I keep thinking to myself how nice she is, wondering why she is so nice to me. It makes me want to cry. We have the whole day. Her husband said she could spend the night; her son is away from home at camp. My roommate is home in the next room with his music turned up. That's the world around us. And then there is Eden and I and all the clips she's decorated me in, her initials carved across my back, the bruises on my belly, the twenty-five stripes she cut into my shoulders. 'So pretty,' she says. She takes the clips off one at a time. We've been together over five weeks now. I see her four or five days a week, sometimes more, sometimes less. We don't always do this. We go to movies. We go dancing. We shop for fabric and groceries and I keep her company while she sews. I go to her house and I make her breakfast and sit on the floor next to her chair, working on my articles while she manages her affairs, her husband at work in the city. We do other things, but this is what we're doing now.
*

Your work is so condensed and precise. Do you go through a lot of drafts? How do you know when you're done?
A lot of times I write the first draft of something in one sitting. If it's like a short, short. Or a short story. Then I'll spend the next three or four weeks rereading it, and it kind of breathes, getting larger and smaller, until I can't make any more changes. I have to read something a couple dozen times and not want to change a word to really feel like it's finished.
I know that sounds kind of pompous, but it's true.
But then I'll work differently on longer things. Like right now I'm thirty pages into a non-fiction, memoir-ish book. Though I guess the process is kind of the same.
In this book the sections are very open ended. Kind of building on top of one another. It's a very strange book
What is it about?
It's kind of about everything. But first it's about a murder. Then it's about another murder. One of the side plots is my addiction to BDSM.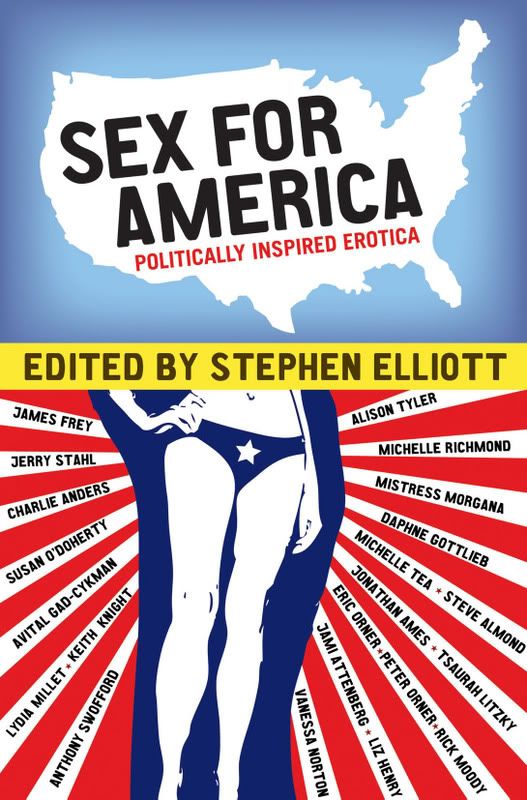 When Alison Tyler set up this interview she said you were in one of her anthologies and she was in one of yours.
Alison is in my collection Sex for America. She has this amazing story in there. All of the stories are fiction, politically inspired erotica. For example, there's a story by Jerry Stahl about having an affair with Dick Cheney in the back of a gun store.
And I have a story in her book, Love at First Sting.
Which is best erotica or porn?
Hmmmm. That's a very tough question.
Erotica is not necessarily erotic. Really good erotica does not have to turn you on, and it should be good even for people that aren't into what you're writing about. But porn should always appeal to the viewer, reader.
Erotica is art and I would argue that porn is not necessarily art. So porn is better.
*

For more of Stephen's work visit
his website
for some excerpts and reviews. Naturally, you can buy his books online
US
/
UK
- or in real bookshops. And you can also
be his friend
.
One commenter today will win a signed copy of My Girlfriend Comes to the City and Beats Me Up. So speak up if you want to win. And please let me know if you can think of anymore *out* submissive men. There must be some. I'm thinking maybe rock stars… There must be one. Alison? Alana? Can you help with this one?
P.S. In honor of Stephen Elliott, for this week (from Friday the 13th through Friday the 20th), take 13% off any order at
Extreme Restraints
. Enter "elliott" at checkout to receive the discount.