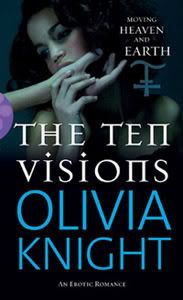 Add a comment for a chance to win a signed copy of the whole book!
---
"Perhaps once in a lifetime, if you are lucky, you will live in a house with a history."
So begins The Ten Visions, set in an Oxford of sinister professors, lovers who claim to be ghosts, irrational fears, dreams of witchcraft, harsh betrayal, and one very special house.
To celebrate its release, here's a satisfying chunk - so grab your morning coffee / evening wine, and curl up...
---
The book blurb
The moment she starts her doctorate in Oxford, Sarah is beset with mysteries. An old portrait in her rented house bears an uncanny resemblance to her. A new lover insists he's a ghost. Her attractive, sinister supervisor obstructs her research at every turn. An ordinary hill on the meadow fills her with fear - and not just her, but also the man with whom she falls in love. And every time she has sex, she hallucinates strange places and other times.
With her own life and soul at risk, Sarah uses sex-magic and a sequence of visions to travel between different times, worlds and places. On an epic journey, she battles an ancient evil to solve a mystery dating back centuries - a mystery that holds the truth of her origins and purpose.
---
Just before this bit...
When Sarah meets Adrian, a gradute botany student, on Port Meadow, his jealous girlfriend promptly throws him out. Sarah offers to put him up in her massive rented house and in return he takes over the cooking. It's only temporary, until his girlfriend relents, but after a few nights under the same roof and an aphrodisiacal meal, their resolve is crumbling.
'I'm not sure we should be doing this,' he muttered huskily.
In reply, she reached for the edges of his t-shirt and pulled it slowly over his head. She watched in fascination as his smooth chest was exposed, his muscles tight and compact, his own nipples crinkled. She bent down, and took one in her mouth, exploring the small hard nub of flesh with her tongue.
'Sarah, please…' he whispered, 'I don't want to take advantage… of… uh… the situation…'
His words faltered as her lips nuzzled. The smell of his skin made her hungry for more, and she suckled more eagerly, tasting the edge of salt and arousal in his pores. Pushing his hips away from her, she lay along the sofa, her mouth clasped to his breast, her own breasts invitingly close to his face. He blasphemed softly as he pressed his cheeks between their inviting softness. Lifting her mouth a moment, she murmured, as she remembered Jo saying, 'Neither god nor the devil can touch us here… They have no rule in this house…'
'Who does…?' His words were a muffled groan against her firm, yielding skin.
'I do,' she said, sinking her teeth onto his chest, nipping him lightly. He wailed in shock, and then she squealed, as his teeth found her nipples. All carefulness, all gentleness, was forgotten. Savagely, they bit into each other, rubbed their faces over the aching sensitive flesh, and suckled as hungrily and fiercely as babies, remembering long-forgotten rhythms. She needed him, her veins thrummed with longing. The intensity was too much to even tear off his clothes and pull him into her. She had to take everything she could now, give everything she could, as they were…
Curled in the foetus position, in mirror images, their mouths were drinking straight from each other's hearts and still it wasn't enough. Her nails dug into the small of his back to pull her along his body, and sink her face into the heat of his crotch. Her hips lay in front of his face, and he groaned deep in his throat. Clutching handfuls of her long skirt, he hauled it above her hips and her cleft lay bare to his view. She scrabbled at his jeans as she felt his mouth close on her full lips. The scent of his groin was intoxicating her. She could see the tight seams straining around the hard protrusion, as she fumbled at the buttons. At last, she ripped them open, pulled his boxers down, and his cock sprang out.
His tongue was running over the length of her slit, up and down, again and again. His hips strained towards her mouth. With one movement, she pushed his jeans down his thighs and lowered her mouth onto him. As he felt the succulent warmth engulf him, he slid his tongue inside, to touch her delicate bead. Her clasping lips and busy tongue slithered up and down him, tasting the sweet stickiness at the top and coating his shaft with slippery saliva. He was lapping deftly at her, gliding his tongue between her lips to taste her juice, and returning to the sensitive tip. She kept her thighs close together and relished the slow agony of lust building inside her. Even so, she pressed her hips closer and closer to him, and with each movement took him deeper. She tipped her head, the better to swallow his thick member. Wrapping his arms around her legs, he forced his palms between them and slowly spread her open.
For a few moments, he lay still, his senses overwhelmed. His nostrils and taste buds were full of her juice, his cock strained in the slick grip of her throat, her flowery folds were exposed to his eyes, her intermittent whimpers of bliss sounded in his ears. He lowered his mouth slowly again. His hand fanned, and two fingers probed at the small, moist aperture. As the opening yielded to and clutched at his digits, her mouth released him and she howled in delight. That animal sound sent a new wave of lust rolling over him. Swiftly, he swung astride her and lay pressed against her, feeling her breasts crushed under his hard stomach. With his mouth drawing furiously on the sweetness of her clitoris, he dug into her with his hand, and played her screams of bliss like a violin. Wild with ecstasy, her lips darted all over him. She licked at his balls, tongued his shaft, nibbled his glans, clutched his thighs, and wailed. Her flailing hand found his shaft and grasped it. It felt as firm as a rudder against her palm. While her mouth lapped and sucked at his tip, her fingers slid along the sticky length in a perfect echo of his fingers' rhythm within her. Her thighs spread as far apart as they could, the inner muscles drawn tight. Her hips bucked in time with his.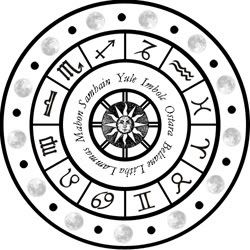 She could feel the shining ball of gold deep inside her, spreading along her veins like a spider's web. For once, she did nothing to hurry it, just felt it spread and savoured the taste of him wantonly. The pitch of her wails rose. All her body, every vein and muscle and particle of soul, seemed to shimmer in anticipation. Slowly, his fingers withdrew, his mouth lifted. Her mouth and fingers stilled. In silence, he shifted from her. She lay motionless and breathless on the sofa, her thighs still parted, as he stood. Now that the moment was upon her, she felt a thrill of fear that she had never felt before. Her skirt, she realised, was still bunched around her waist. He dragged his jeans off his feet. Bending over her, he pulled her skirt over her head. The intensity of his eyes made her tremble when she met them. Both he and she seemed to be wading through dark gold air in slow motion. The very walls of the room seemed to hum with tension. She watched, frozen and burning, as he knelt between her widespread legs and leaned slowly forwards. His mouth touched hers as that blunt, blind tip touched her entrance. In unison, his tongue and his staff nudged at her different lips. She shuddered, feeling the suspended, shimmering frenzy returning. His lips pressed hard against hers as his flesh fought against the straining passageway. He seemed to be dividing her in two, as his thickness pushed gradually and relentlessly inwards. Her pussy felt as if it were screeching with ecstatic need, her breasts heaved against him, his lips had not yet left hers. Her hips bucked against the unyielding rod, unable to wedge it deeper. Kissing her deeply, he clasped her shoulders tenderly in his hands, and with one hard shove sank fully into her. The uncontrollable yelling of her orgasm was caught in that first, long kiss.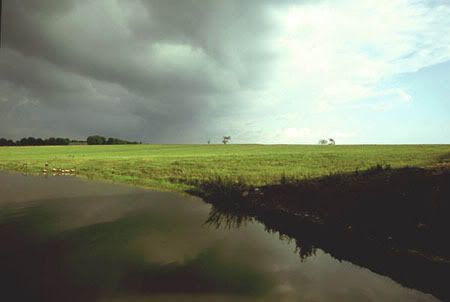 When at last she subsided, they were kissing still. Their tongues entwined languorously. Slowly, he withdrew to half his length, and pushed gradually into her. She received him, deep inside her, with a sensuous moan. Again, he pulled away, and unhurriedly sank to the hilt in her again. Her legs closed beneath him, leisurely, enclosing him even more tightly. Their thighs pressed; their arms wrapped around each other. With each motion, all the skin on her body rubbed smoothly along his. A rich ache built inside her as he kept on grinding slowly. Their breath came faster, they began to pant, their hearts beat furiously against each other's breasts, and still he maintained the same, steady pace on top of her. Each time he drove slowly into her, he seemed to fill her more. All her body was glutted with him, every cell crammed and ready to burst with intensity. Her head swam as she drowned in his kisses. The raging passion was unbearable, his barely controlled thrusts dizzied her. His gasping breath was hot on her cheeks. The pounding of his veins echoed in her ears. She felt something deep, far down in the depths of her, awaken, as she approached the excruciating crux, she began to scream as he did, the sounds lost to her passion-deafened senses. Her whole body clenched his as she reached the summit with him, and sank into unconsciousness.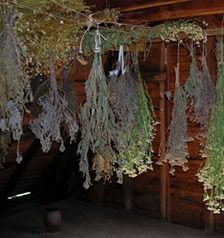 The room was small and built of rough, untreated wood. Daylight hardly penetrated the gloom. A forest of drying herbs hung from the ceiling, brushing her hair as she pulled her thick skirts up to avoid the thick mud around the doorway. Despite the dimness, she knew the exact shape of each bunch and each of its leaves – the long, trailing leaves, the tiny spear-like ones, the small serrated ones. Stray fragments crumbled into her hair as she passed, imparting their dusty perfume. She shaded her eyes against the brilliant sunrise with one hand, the other dangling by her side, holding the water jug. Warm, southerly wind lifted tendrils of her hair. Far in the distance, squinting in the light, she could see the breast-shaped rise of Round Hill, and silhouetted against it on the far side of the river, the gilded silhouette of her darling. As she watched, two horse-riders cantered up the meadow towards him. In horror, she saw the menacing steeds closing on him. She was sick with dread as she sank to her knees, pulling her fingers through the mud. She felt the grainy muck under her fingernails, but didn't look down; her eyes were fixed on him. Round and round her tracing hands moved, stabbing and smoothing at the wet ground, she had to do it faster – she had to move faster – she was muttering under her breath, she mustn't look away, the bile of fear was rising in her throat…
A violent fit of choking ended the murmuring litany. As she spluttered, a warm arm gripped her around the waist, a hand patted her back hard. She drew breath at last, through her gagging coughs, and felt the welcome oxygen spread through her veins.
'You're okay!' she exclaimed, falling into his arms in weak relief. Her head lay against his chest, feeling the warm lifeblood flowing through his skin. 'I was so worried – it was so awful…'
'You were worried?' said Adrian in disbelief, tilting her head back to look at her. 'I'm okay? You passed out cold!'
Sarah looked around her in confusion at the spacious room, full of soft furnishings and warmth, with its high ceilings. A few candles still glowed.
'I… had the weirdest dream.' She shuddered. 'It's still with me – it felt so important. You were there, you were in terrible danger, these men with horses were coming for you, but the water was between us and I couldn't do it fast enough.'
'Do what fast enough?'
With his arms wrapped safely around her, the dream was evaporating, shreds of it flying away as her full consciousness returned.
'I don't know… It was important, it was so important.' She shook her head to clear it. 'I had mud under my fingernails.' She examined one hand, half-expecting to see the soil still ingrained.
---
Want a bit more? There's another excerpt on my website - and if it tickles your fancy just right, tell the postman to bring you one or download the hands-free audio-version. Don't forget to add a comment below to be entered into the draw for a signed copy.