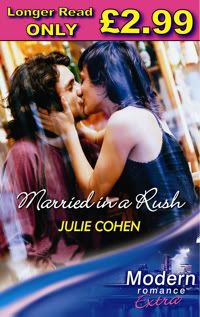 Those category romance books are all smouldering glances and unrequited desire but when it comes to the crunch the bedroom door closes, we fade to black or cut to a crackling fire, right?

Wrong!

Rising category romance star Julie Cohen explains just how dirty those innocent looking books can be (and how dirty they *can't* be) and lets us in on where she finds her smuttiest inspiration.
MMx

*

As a young teenager, I learned about sexual relationships from two secret sources: a stack of Penthouse Forum magazines I found in a closet, and from Harlequin and Silhouette novels that I sneak-read in the library. One source was about sex. One was about love. It's probably not surprising that I grew up to write sexy category romance.
In the kind of romance I write, sexual tension and emotion is more important than sex. Usually, I have to think up characters who lust after each other, but who have very compelling reasons never to have sex with each other, ever.
So I might spend most of the novel building up to a sex scene. For example, in my latest release,
Driving Him Wild
(Mills & Boon Modern Extra, February 2007), my heroine, Zoe, is irresistably attracted to the hero, Nick, from the moment she meets him being difficult on her doorstep. Nick, however, isn't attracted to Zoe sexually at first. He likes her, and he particularly likes winding her up, but she's a tomboy and not his usual type, so the idea of sex with her doesn't even occur to him until, out of the blue, suddenly he can't get it out of his head.
What this means is that Zoe picks up on early signals that Nick isn't interested in her, and therefore she spends most of the book struggling against her attraction, because who needs the humiliation of trying to seduce someone who's not interested? And then, when he makes his interest very blatantly clear (he's wearing exercise shorts at the time, and it's pretty darn blatant, hooray!), she thinks it's because he feels sorry for her.
In a 216-page book, the first sex scene starts on page 150. And even then their problems aren't over, because Zoe finds it far too difficult to trust. Every sex scene after that first one is focused on trying to get her to let her defenses down.
On the other hand, maybe I have two characters who lust after each other and have no reason not to sleep together. That's what happens in my October 2006 release,
Married in a Rush
. Jo and Bruno are both commitment-phobes, and within half an hour of bumping into each other, total strangers, in the National Gallery in London, they're having sex with each other in a broom closet (on page 27 of a 216-page novel).
If you begin a romance with your characters getting it on, you have to then come up with reasons why they can't get it on again for much of the rest of the book. With Jo and Bruno, there is a simple reason--the condom fails, and she gets pregnant. Because they're having a baby together, but because neither of them wants a committed relationship, they agree they have to try their best not to sleep together again: it will only complicate things.
(The title of the book sort of gives away what happens. I wanted to call it Remarkably Penetrative Sperm, but my editor, alas, said no. Marriages of convenience are a major hook for category book buyers. Sperm, apparently, isn't.)
My June 2007 release, All Work And No Play... is similar in that the characters have sex with each other right away , and I had to think up a compelling reason why they couldn't have sex again until near the end of the book. In that case, it's because of a mistaken identity: she thinks he's a stranger, when in fact he's her best online buddy, the one she can't afford to lose if (when) their relationship goes wrong.
So I spend a lot of my sexy novels stopping my characters from having sex with each other, which is pretty fun for me. (Less fun for them.) When they do finally get busy, I have to concentrate on character arc and emotional intensity as much as on the sex. Because while the reader wants to read a good steamy scene, she also wants to be taken on an emotional journey and fall in love along with the characters.
There's also the tricky bit about writing explicit sex scenes that aren't too explicit. Personally, I like to call a penis a penis, and I don't have much truck with buttered muffins and throbbing flagstaffs (unless it's for humour). But there are some words I can't use, because they'd be offensive to the reader. When I wrote an erotic novel with my best friend recently, it was incredibly liberating to be able to use four-letter words, and to have my characters shout them out, repeatedly.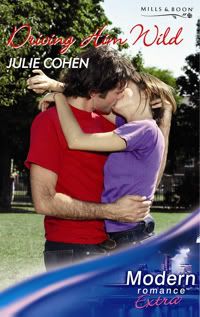 As long as my language is fairly clean, I can describe what I want to, though because the focus is on romance rather than sex, I try to make it more sexy than sexual, and any kink has to relate directly to the character arc and emotion. There can't be anything that will distract the reader; the fantasy is about two people who are wildly attracted and in love with each other, not the sexual act in itself. Definitely no gimp masks or enormous dildoes or horny Alsatians. I save those for my private life.
One of my editors removed a reference to (male) pubic hair once, but I've included it since without any problem, which is good, because romance heroes don't tend to wax. Another editor took out a description of the hero disposing of a used condom, and I sort of agree with that because it is gross, but hey, it's an important part of real-life sex, and, to me, an indication that he's not a slob.
On balance, I'm glad I read the Penthouse Forums as well as the category romance--just as I have fun these days writing romantic sex scenes, and erotic ones. They're two different views of fantasy. And we can never have enough of that.
Julie
Amazon UK links
Driving Him Wild
, Married in a Rush
, All Work and No Play

*

And Julie has two treats for viewers. The first is the chance to nip over to her blog and win a copy of Driving Him Wild.
The second is a very worthwhile new recruit for the Mathilde Madden Foundation for the Preservation of Dangerously Naked Men.
Of course, we're talking about passion and fashion this week. And if you are Guy Pearce, what could be more fashionable than the "
Oops, all my clothes have accidentally fallen off"
look.