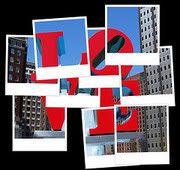 I've done some crazy things for love.

A few years ago, a boyfriend and I were suffering from a long period of time apart. We hadn't seen each other in almost six weeks, and we both lamented every lonely moment of it when we slept alone in our respective beds. Then, an unexpected treasure: He somehow found three days free in an otherwise packed schedule. He would meet me at the airport. Could I get there?

Never mind that he was thousands of miles away. I was in Music City, USA. He was in Sydney, Australia. But what does a little distance matter when you're in love?

Could I get there, he asked? Of course I could get there! When?

Next week?

Ooooookay...and oooooh, boy.

It would mean juggling deadlines, rearranging a solid week of plans, and getting out of a friend's wedding. I would have to work hard and heavy to finish all my writing obligations early.

No matter.

A flight from Nashville, Tennessee to Sydney, Australia can take – depending on the airlines, layovers and the Gods of Accurate Departure Times – twenty hours or so. That's almost an entire day and night of airtime, most of it over ocean so impossibly vast that looking down on it boggles the mind. The flight crosses the International Date Line, so that when you arrive you have either lost a day or gained one, depending upon whether you are going or coming. Touching down with a whole day missing – or magically restored – is enough to make one believe in time travel.

Did I do the sane thing and consider all the options? Did I use common sense? Did I slow down long enough to think about the fact that he would be returning to the US in four weeks anyway?

Think? Slow down? Are you kidding?

The next several days found me sacrificing sleep to a point of absurdity. Finishing deadlines to free my schedule. Apologies to friends. Boarding the very annoyed dog. Twenty-four hours on a plane (the Gods of Accurate Departure Times were apparently on vacation). Hellacious turbulence and more than a few prayers.

Finally, touchdown – and there he was, waiting for me at the gate.

The closest we came to leaving the hotel was making love on the balcony. We survived on nothing but wine and a fruit basket. We devoured each other instead, loving with a vigor that left us with sore muscles, bruises and not a single wink of uninterrupted sleep. We made up for every day of those six weeks apart. It was glorious.

We had a grand total of fifty hours together before the plane took me away again.

I left Sydney at a wonderful eighty-five degrees. I returned to Nashville to find four inches of snow and temperatures just slightly above freezing. I came home with a cold from breathing recycled cabin air, a cramp in my leg from sitting for so long, a bank account much diminished thanks to last-minute airfare, and a complete uncertainty of what day it really was.

Why did I do it? I loved him, that's why!

Love brings out the irrational part of us faster than anything else ever could. We start to see the possible in the impossible. We become willing to fly across the world at a moment's notice. We play the same songs over and over, just because it was the one that played on our first date. We send love letters like we were back in elementary school, smile like a goofball and drive our friends mad with constant descriptions of that one little tiny thing our beloved did or said. We become obsessed with that soul-searing, heart-lifting, sweetest lightness that only love can bring.

Flying to Australia is not the only crazy thing I've done for love. I've made shorter trips, crossing a country for the sake of stolen moments with a lover. For sweethearts I have written songs, poems, stories, even whole novels. I've spent more money than I could afford on tokens of affection. I once wrote a message of adoration for a man – in ten-foot-tall letters on a public billboard.

It wasn't the first time, really. When I was in first grade I wrote "I Love Adam" on the class blackboard in the biggest letters I could manage. He responded by kissing me on the school bus. All was beautiful in our young love until our parents were called by the headmaster. Oops!

Maybe I got into a bit of trouble for those stunts – but were they worth it, you ask?

You bet your fluttering heart they were, my friend.

How could doing something crazy for love not be worthwhile? The best moments are spontaneous, from the heart with no-holds-barred. Even if the relationship doesn't work out in the long run (alas, Mr. Australia didn't), letting yourself turn into a love-stricken fool is always memorable.

Perhaps the most crazy-wonderful thing anyone has ever done for me when it comes to love is the most simple: Giving the gift of himself. Shortly after I met the love of my life, there came a night when he dropped everything, moved his very busy schedule around, hopped in his car and headed my way. He showed up on my doorstep during the wee hours of the morning, unannounced and unexpected. Why? I was lonely. He thought I might want a hug.

I got my hug, and he got me. I'm going to marry him. I figure we're both crazy enough to keep each other happy for the rest of our lives.

That's my story...what's yours? What's the craziest thing you ever did for love – or the craziest thing your love ever did for you?