Here at Lust Bites we are always pleased to hear from people who are doing new and different things with the genre. A lot of erotic romance topics can feel done to death. Fresh new thrills are always top of our list of treats. So we couldn't wait to get Erastes - author of male/male historical erotic romance Standish - on the blog and find out all about her small but perfectly formed genre - where you get not one but two gorgeous men striding out in their breeches and, quite often, striding out out of their breeches too.

Erastes: Well, hello everyone, it's nice to be here. I've been lurking for a while, reading the syndicated posts via LiveJournal and I've been enjoying the posts and the discussions that you generate here.

I'd always wanted to write but although having started a couple of projects which founded after a few chapters, I didn't succeed and I finally gave up, thinking that I had no plotting abilities. This all changed in July 2003, when I discovered fanfiction - entirely by accident. I had no idea that "fandoms" existed up to that point. I read a couple of fan fics, thought "I can do this" and wrote a 66k word Harry Potter novella dealing with what Lucius Malfoy got up to in the book Order of the Phoenix when he wasn't actually on the page. Although it was fun, I finished it and thought. "Mmmm. That was a spectacular waste of effort, I can't sell it!" I decided to convert it into original fiction, the idea being I'd change the names and places, remove or warp some of the magic and wouldn't have to do too much.

However, as other authors will know, things rarely work the way you set out for them to do. The book wouldn't listen, the characters evolved into different beings entirely (to my considerable joy) and it utterly refused to have anything to do with Potterdom or magic. It turned into a homoerotic regency romance and Standish was born.

It is now my aim to attempt to help drag historical homosexual romance into the mainstream and to make the publishers and review sites take it seriously as a genre.

I'm re-writing and editing my second novel Transgressions which is based around the English Civil War and is nearly ready to start getting sent out to publishers, and I'm about half way through Junction X which isn't strictly what the Historical Novel Society would deem "historical" as it's set in 1960's English Suburbia, but has been as much of a challenge, research-wise as any of the others.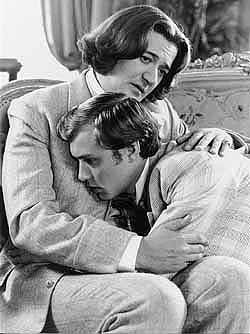 I actually worried about myself the first time I read a gay story and was turned on by it. Believe me, I've had the least sheltered life you can imagine, but I'd never considered that homoerotica could be hot. But it was. Then I thought …"Hang on, what's most straight men's favourite fantasy? Two women!" So that being the case, it made perfect sense that I found two beautiful men in bed together alluring.
I should of course point out here, that I'm not a man, in spite of the name and the web-bio – I chose the name Erastes because at the beginning I didn't think that men would want to read gay erotica written by a woman and now I'm stuck with "him". I had no idea that most people writing and reading gay erotica (particularly in fandom) are women, and I'm pleased to say that both gay and straight men and gay and straight women enjoy my stuff, so I must be doing something right!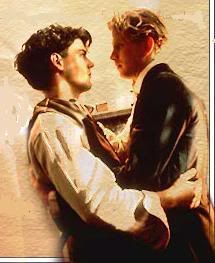 Why historical fiction then?
There are a lot of people writing contemporary but not that many writing historical gay fiction. Granted the word "gay" didn't come into that use until last century but homosexuality wasn't invented last century (or indeed "invented" at all). The interest in writing homosexual historical fiction for me is to attempt to portray it as realistically as possible. I don't want to write (or to read about) men in earlier centuries with modern attitudes. I want them to be aware of the danger of what they are doing, of the attitudes of the government, the church, even their neighbours.
This makes gay fiction difficult to resolve into a HEA – in my opinion. Two men from the 17 th Century in England would find it as difficult and as dangerous to set up house together as lovers as Jack and Ennis (
Brokeback Mountain
) would have done in 60's America. However there are ways to infer that they will be happy without having an anachronistic gay wedding. Lee Rowan manages it perfectly in her
Ransom
– set in Nelson's Navy, and Emily Veinglory does it well, too, in
The Highwayman
.
Personally, in the two novels I have finished, I've allowed the reader to decide what happens after the curtain falls. Can a rake and an innocent be happy and will Rafe ever be faithful? Can a Puritan and a King's man find a common path in Cromwell's England? What happens next? I hope that the reader cares enough to worry about my characters after the last page – that's the nicest compliment of all.
So – any questions? Don't be shy!
(We are also giving away a copy of Standish to one lucky commenter. So even if you don't have a specific question, just pop in and say 'hi' and 'gimme'
MM x)