I adore letters. I bewail the loss of stationery; heavy crinkle edged, watermarked and perfumed: the fountain pen, even the pencil. Pressed flowers and tear stains.

There's something very visceral about actual letters, perhaps it's the time they take to write,
the fact that they can't be amended without heavy crossing outs or destroying the work one has put into them and starting again. There's a true feeling of connection and commitment to the relationship because letters take effort to create, effort to post, effort to tear into tiny bits.

One can't show tear (or other) stains on an email. Oh yes, I miss letters. And I miss love letters most of all.

Gay love letters from earlier ages are rare things: As a form of social history they are one of the most ephemeral things. They may be important, even precious to the sender or the recipient, they are so often lost in time – perhaps they lurk in an attic and are eaten by mice, or ruined by rain or fire – perhaps they are burned, as Byron's were (and many others) to prevent family scandal and biographical digging. But they are rare to survive – even more so to survive with their mates' – and all the more fascinating for the tantalising glimpses they give us.

I used letters as a major plot device in "Standish" where Rafe-desperately pouring his heart out to Ambrose, who he's lost-is indiscreet to the tenth degree, which therefore leads to disaster. It happened to real people too!

According to Rictor Norton's "My Dear Boy" (from where the snippets of these letters are sourced) the earliest letter regarding gay love was the smallest surviving snippet from Hephaestion (lover of Alexander the Great) to Alexander's mother.

"Stop quarrelling with me-not that in any case I shall much care. You know Alexander means more to me than anyone."
It is heartbreaking that no letters from Hephaestion to Alexander survived but I think that we can be sure that there were many.

It goes without saying that often letters of assignation were often burned for fear of apprisals from the authorities, but I'm happy to state that there are some still around which give a tingling, often amusing, sometimes heart-breaking but always heart-warming insight into the love between men. Men who are not afraid to pen their emotions!

From Francisco Correa Netto to Manoel Vegas (1664) on hearing that Vegas was betrothed.

"…remembering your arms and the kiss you gave me, that is what torments me most. And you know this subject well, in that heart trouser fly (cock) for it was that which desired me, with its craving to fly up. There was no Lent for that heart trouser fly, when I touched it with my fingers and instantly it sprang up. And you, so evil, who did not want to do what comes so naturally!
Goodbye, my darling, my happiness, my true love."




From the Reverend John Church to Mr Edward B--- (1809) (Church was the notorious Regency "gay vicar" who married male couples in The Swan at the Molly House in Vere Street, London and was later to be sentenced to two years in prison for attempted buggery.

Dear Ned, …You would consider it as unmanly and quite effeminate, and having already proved what human nature is I must conceal even those emotions of love which I feel. I wish I had the honour of being loved by as much as in as great a degree as I do you. Sometimes the painful thought of a separation overpowers me, many are now trying at it but last night I told the persons that called on me that let them insinuate what they would I never sacrifice my dear Ned to the shrine of any other friend on earth.

From Ernest Boulton to Lord Arthur Pelham Clinton (circa 1869)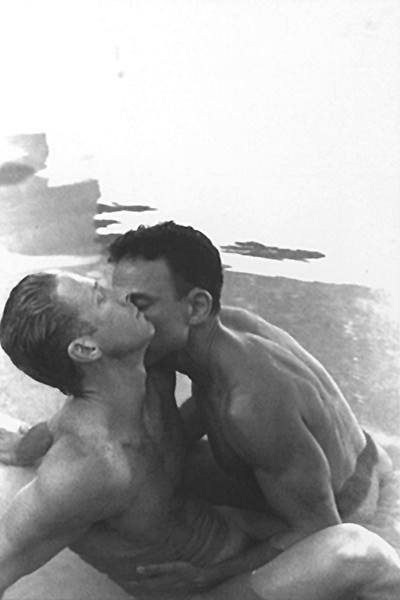 My dear Arthur,-- I have waited for two hours for you, and do not like to be treated with such rudeness… I shall not return tonight—not at all, if I am to be treated with such rudeness…I am consoling myself in your absence by getting screwed. Mamma sends her kind regards, and will be glad to see you on Sunday.

From Tchaikovsky to Vladimir Davidov (1892)

I have just received the Paris photographs from Yurgenson and have told him to send four of them to you. I was so glad to see what a good likeness they were that I nearly started crying in the presence of Yurgenson. All this proof correction had completely destroyed all other feelings and thoughts and it had to be this little incident which made me feel again how strong my love for you is…Oh God! How I want to see you.

From Oscar Wilde to Lord Alfred Douglas(1893) (Which goes to show that some letters perhaps are better burned



My own Boy, Your sonnet is quite lovely, and it is a marvel that those rose-red lips of yours hsould have been made no less for the music of song than for the madness of kisses. Your slim gilt soul walks between passion and poetry. I know Hyacinthus whom Apollo loved so madly, was you in Greek days. Always, with undying love, Yours, Oscar



Of course the Beloved did not always return his Lover's attentions! This from "A boy" who had been propositioned (with examples from classical literature such as Ganymede and Hyacinth) by a 12th century Spanish monk.

"Horrible man, I won't stoop to this filthy vice which displeases God…. For if you keep doing this too persistently, you may regret it, when it turns out I make you notrious for your shameful behaviour."

And finally, the happiest set of letters are between Ralph Hall and Montague Glover who met around 1930 and exchanged literally hundreds of love letters, particularly during the Second World War. (God KNOWS how they got past the censors.) They lived together in "tranquil domestic bliss" until 1983 when Ralph Hall died. Montague is the rather well endowed young man at the head of this article, and there is a book of photographs of the couple "A Class Apart: Private Pictures of Montague Glover" which is – for any historian of gay history – in my opinion, unmissable. The word "strong" means horny in the example.

Darling, (19 December 1942) I have not had a letter from you yet and the lads that came out here with me have had a lot. I hope everything is all right at home. Look after yourself darling and try to do something for me, you know what I mean my darling. Think of me Monty. You are the only one that ever gave me a frill (sic) and you still do. Darling I can see me and you on the bed now you old darling and we'll be there again don't worry my darling... I feel so strong tonight my darling.

All my love and a merry Xmas, LOVE Ralph.

These letters are chatty affectionate, rather camp and just gorgeous, interspered with "my darling" and full of what they should be full of. Love.

"My Dear Boy" is a really fascinating read for anyone interested in the subject.