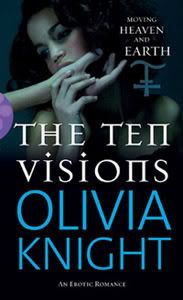 Ghosts! Mysterious pictures! Strange dreams! Sinister supervisors! Passionate encounters! True love! And all set in Oxford...

...but enough about my life...

The Ten Visions is now haunting a shop near you... At the end of this month, you'll get a tasty excerpt in our usual Smut Slot, but if you can't wait till then, it's now at Amazon and in the shops. (Waterstones keeps theirs in a special "Erotica" section - heaven forbid that anyone browsing for fiction accidentally pick up a book with sex in it - while Borders considers it Romance.)

There's an audio version here, with a sample that even your mother could listen to without blushing (though the rest of the book might get her a little hot-under-the-collar). You can also read an excerpt on my website...

About The Ten Visions

'Jo - I don't know what you think, but I don't believe in ghosts.'
'Sarah, my darling.' He took her hand in his again and held it to his cheek. His skin was cool and smooth on the back of his hand, his cheek bone sharply sloped. 'Tonight you made love with one.'

The moment she starts her doctorate in Oxford, Sarah is beset with mysteries. An old portrait in her rented house bears an uncanny resemblance to her. A new lover insists he's a ghost. Her attractive, sinister supervisor obstructs her research at every turn. An ordinary hill on the meadow fills her with fear - and not just her, but also the man with whom she falls in love. And every time she has sex, she hallucinates strange places and other times.

With her own life and soul at risk, Sarah uses sex-magic and a sequence of visions to travel between different times, worlds and places. On an epic journey, she battles an ancient evil to solve a mystery dating back centuries - a mystery that holds the truth of her origins and purpose.

Read an excerpt | Find the audio version | Find it on Amazon