Sorry, no cowboys this time, only a discussion on those peculiar pieces of internet fiction called e-books and an extract from my latest, "Antonia's Bargain" about a bisexual Regency rake. Just in case you were wondering, the cover to the left is from my futuristic e-book about a planet full of intergalactic Vikings. It's very popular with the ladies, God knows why.

Back to e-books-What are they, why are they good, and more importantly, can you make any money out of them?

I write e-books for Ellora's Cave who specialize in erotic romance. EC was founded by a writer called Tina Engler who couldn't find anyone to publish her steamy stories so set up her own publishing company at her kitchen table. Tina's done good. She realized there was a growing audience in the U.S. of women who were interested in reading more erotic stories but didn't necessarily want to go into a bookstore and be treated like sinners for wanting to read smut.

People often ask me, in a kind of patronizing way, whether I self-published my EC books and had to provide cover art etc. No, I didn't. Some internet publishers are very sophisticated and do all that for you. EC sell a phenomenal amount of downloads a month and reported first-quarter sales in 2006 of 200,000 e-books. 200,000 ain't bad is it?

The main thing that appealed to me about EC when I submitted my first story to them back in 2005, was that I could write as hot as I liked and they loved it. They also take manuscripts of all different lengths (naturally) and didn't mind that my first book "Eden's Pleasure" was only 27,000 words long.

Originally, a lot of people looked down on internet publishers as kind of a showcase for writers who weren't good enough to get published anywhere else. And yes, some online publishers are like that, but not all of them. The covers can sometimes be a bit leery but they are also improving. (mine aren't too bad are they?)

Other nice things about writing for an e-book publisher, your books come out quickly, you get paid monthly and the royalty rate is substantially higher (37.5% of cover price for my EC books)And yeah, I sell a few, on average, a thousand copies in the first 6 weeks.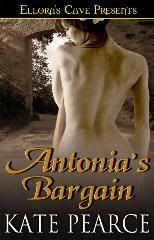 Another good reason for writing for EC is that they let me write pretty much what I want. My latest, "Antonia's Bargain" a Regency set erotic romance has a bisexual hero, m/m, f/m/f, m/f/m and a lot of other delicious stuff going on in it all in only 40,000 words.

Here's a short extract:

"The interesting thing is, I think I have found what I want."
Peter cupped Gideon's balls. "A man or a woman?"
Gideon reached across to slide his fingers beneath the open neck of Peter's shirt. He tugged gently on his nipple ring. "A woman who only chooses to acknowledge me when she is dressed as a man. Take off your shirt."
"I can't say I'm surprised. A woman masquerading as a man would suit you perfectly."
Gideon raised an eyebrow as Peter continued. "I know you've chosen to bed mostly men in the last few years, but I've never believed your heart was in it."
"You haven't?"
"Just because you've tried to convince yourself that you prefer men, doesn't mean that it is the truth."
"And how would you know this?"
Peter locked gazes with him as he removed his shirt to display his lean muscular chest and scarred skin. "Because I spent ten years of my life in a Turkish brothel and I've been in every sexual situation imaginable. You use men because you believe they can't hurt you like Caroline did. If you truly preferred men, you'd let them fuck you as well and you don't."
"Perhaps I'm one of those men who believe that if they don't allow themselves to be fucked, it means they aren't a sodomite."
"You're not like that."

Like the sound of it? then be brave, experience your first e-book and let me know if you enjoyed it! It's available to download here

And if you reply to this post, and have an opinion on e-books, you can win a copy of your very own...