By Mathilde Madden

Mine does. Knows I write porn that is. In fact, my mother is pretty proud of me. I'm sure at some point we had an agreement that she wasn't meant to actually read the books – but she does. My father asks me a lot of questions about the process of writing (I think he's trying to write a computer programme to take care of the boring bits for me). My sisters read my drafts and give me feedback (though they stay away from advising me on the dirty bits).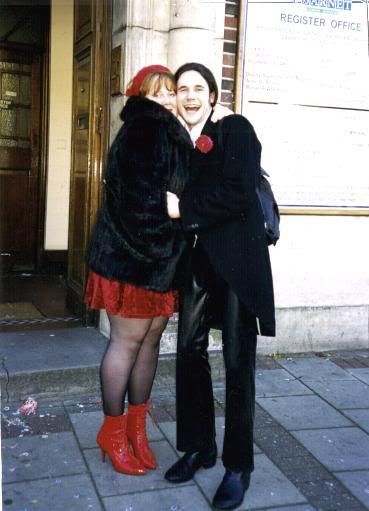 And if anyone can find a way to embarrass my partner over what I do I'd be glad to hear it. When a national newspaper recently implied I liked to make him dress up as a werewolf for 'research' he couldn't have been happier. (Well he could, but only if I'd bought him a Wii. I fact in this picture I may have just said I would buy him a Wii - either that or I just married him.)

All my friends know. I recently got a text from an old school friend asking if I was the author of 'Mathilda and the Master'. Sadly, I'm not and I have been subsequently unable to track down the book. Everyone but everyone knows. I've never had a less than positive reaction to what I do.

But there are some limits. When I had my brush with national media fame referenced above, my mother confessed she was glad it was the Express and not the Mail so my dear old 86 year old Methodist great aunt wouldn't stumble over it by mistake. And I might be playing happy families now, but I actually wrote three books before I told my parents about my new found source of pin money. What can I say, I somehow missed the point at which I *should* have told them and then it just seemed more and more difficult.

So that's me. How about you? Do you wear a T shirt that says 'I write porn for money!' or is it just a discrete little lapel pin. If you write porn, (call it erotica if you like, but I like the word porn) how out are you about what you do? And why?

If you read on the wild side, do you tell your mother about the latest greatest smutty book you enjoyed. Do you read them on the train. Hidden inside a copy of The da Vinci Code? Do you have a stash of under-the-bed books that aren't on display?