All this time you were pretending,
So much for my happy ending…
One of my erotica stories actually ends with the words 'they lived happily ever after'. It's a fairy tale, so it has to. All my 'erotica' ends well, whereas my other writing tends to end in death, desolation, mourning, tragedy, and bleak bitter triumph – but my other writing is also erotic, just not categorised as such. With erotica sliding increasingly towards erotic romance, the Happily Ever After question raises its dewy-eyed head with some peculiarly specific problems.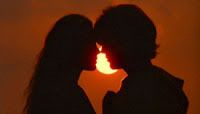 In straight romance, the final resolution is when they get together, kiss / shag / marry / confess their undying love, and that's about as Happily Ever After as we need. The plot challenge for the writer is inevitably how to keep the characters apart until this joyous union, while raising the sexual tension. In erotica, that's more problematic. How do you keep your characters away from a romantic resolution until the end of the book while filling said book with swathes of horny sex? One trope is misunderstandings, but I'm impatient with that. If two characters can't be bothered to sit down over a glass of wine, put away their egos and lay their cards on the table, they don't deserve happiness and their relationship is probably doomed anyway. Another trope is having people who're incredibly attracted to each other but can't stand each other / fight passionately throughout the book, which is all a bit silly really. I prefer my erotic wine without cheese.
There's another problem. If the Heroine's having sex with the Main Man, why is that not Happily Ever After? If not, who is she having sex with, and why is she, when she fancies this other bloke? What is the defining moment of 'romantic resolution' if not the long-awaited shag and confessions of love?
A good writer (and all the Lustbiters are!) will resolve these within the nature of the individual plot: its singularity supercedes all ideas of 'tropes' and the characterisation dictates what Happily Ever After is for these two. All my happy endings took care of themselves, without being my primary story goal. The more we insist on romantic resolution as our major aim, however, the more we risk slipping into clichés. Is H.E.A. even what we want? Any sentence beginning "What women want is…" should be struck off the record and the culprit sent to do a proper representative survey of women around the world. Disney is not the international female ideal for narrative. What my female characters usually want, like Chaucer's Wife of Bath, is sovereignty: power, authority, mastery. Their relationship lies alongside that, rather than coming first.
Let's duck out of 'romance' for a while, and look at other love-story plot-lines. Think of the epic tales: Tristan and Isolde; Romeo and Juliet; King Arthur, Guinevere, and Lancelot… The tragedy didn't spoil these; it defined their resonant power. Guinevere and Lancelot's doomed night together is doubly charged by its illicit nature and the looming discovery. Crying has never ruined a story for me.
My definition of erotica is quite factual: stories with sex in. Not love-stories or romances, just stories. Most people have sex regularly and it usually does affect their lives and relationships. Including sex-scenes that are relevant to the plot is as easy as breathing. The plot itself could be drawn from fantasy, sci-fi, mystery, thrillers, crime, realism, anything at all, and sex will always be pertinent. Now that women are allowed to own property, vote, and work, love and marriage no longer define our lives: should they still define our stories? Or are there other more varied plots into which passion is woven as seamlessly as it is in life? Should erotica be borrowing from the romance genre or defining itself simply as quality writing that leaves the sex in?