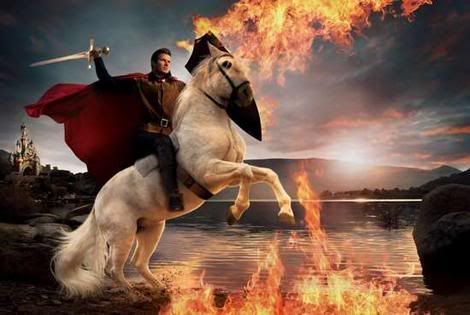 It's February. It's hearts, it's flowers, it's smutty stories about hot cowboys... hang on...

Actually, why not? And brave soul Kate Pearce has manfully volunteered for the job of Cowboy Wrangler here at Lust Bites Towers. I suspect there will be several willing volunteers offering to be her "assistants". The Cowboys will be on parade on Monday. I think Kate might also be talking about the Sex in Public collection, but really, the cowboys are distracting me.
On Wednesday Alison Tyler is back talking Sex and Music – which is incidentally the title of another Wicked Words short story collection. Alison's Sex and Film post was one of our busiest ever for comments, so form an orderly queue on Wednesday and tell us what kind of music makes you squirm – in a good way.
On Friday Black Lace's First Lady Portia da Costa - who has been writing for the imprint since the Renaissance (what? I mean 1996) - will be here to tout her delicious forthcoming wares. Reprints of the classic erotic novels Continuum (one of the best selling BL novels ever) and Gothic Blue (a paranormal romance that was way ahead of its time.)
Happy viewing
Tilly aka Mathilde Madden
Dedicated to Urban Kinkery
PS Once again my picture is not really relevant to anything. But it's Becks, with a sword, on a horse, on fire - so I reckon I am forgiven.