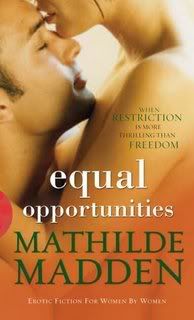 Okay, I am late. I have a good excuse. I have been up all night! Just like one of the kids! Last night I went up to exciting London where I was nominated for Writer of the Year at The Erotic Awards, for my ground breakingly exciting, disability porn, smut fest, Equal Opportunities.

And I won!

I won a huge golden cock on a plinth! I'd like to thank everyone associated with The Erotic Awards and everyone who has supported Equal Opportunities to make such a strange little book about a strange little subject a huger success than I would ever have thought.

*

I'm out of my wheelchair and crawling for her. A weird fucked-up creature dragging itself across the carpet. And, god, I really shouldn't like this so much. It's every kind of objectification. But sparks of arousal are flying all over my body. I can scarcely tell which parts of me are which. I want to scream at her for her to take me. Use me. Make me into a mere thing. I want her to stride across the floor to me and fuck me. Force herself inside me. Own me.

But I don't. I don't because even in my own zoned-out state I can tell she's lost in her own rapture. She wouldn't even hear me. 'Tell me why you're doing that,' she says, as she stares at me crawling, squirming on the floor, her voice so ragged it's barely recognisable.

'For you.'

'No, no, tell me why you have to move like that.'

I change my path and start to drag myself towards her, meeting her eyes from way down on the floor. 'Because I can't get up.'

*

Next week we have Deanna Ashford talking about her latest epic Templar Prize. Then on Wednesday Gwen Masters is here with her white coat on to talk sexy injuries. Friday means randy little Alison Tyler talking with erotic artist Eliza Castle. And possibly, at some point, photos of me with my giant golden cock.

Did I mention that it has wings?

Mathilde Madden
Award winning - no, really.